VormVrij 3D in cooperation with Unfold
Edit by: Marlieke Wijnakker, Video: YouTube Channel , Website VormVrij 3D

---
Netherlands based 3D Clay Printer manufacturer VormVrij® 3D use their own commercial machines for small production series and unique pieces. They sell their Printers through the webstore on their site.
The products discussed in this article are from the Stratigraphic Porcelain series designed by Belgian Design studio Unfold. Similar cups are are sold through the Unfold website.
---
Fall 2017 Studio Unfold contacted VormVrij 3d for a commission that would put their 3d clay printers to the ultimate test. 400 identical cups, printed, glazed and packed for shipment within 14 days. If they could pull it off two more batches would follow the next 4 weeks making a total production of 1200 cups in 6 weeks.
The challenge was accepted, the correct clay was ordered, and preparations started.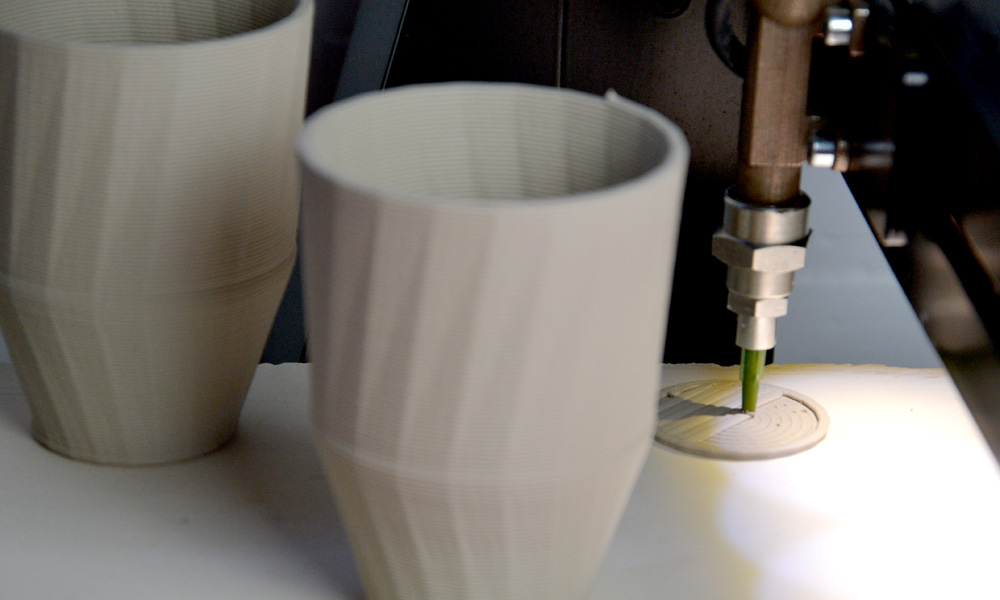 "For mass production we had to optimize printing. The design of this particular cup is somewhat crenelated with sharp corners. This would not allow for maximum print speeds as the directional shifts at those points could vibrate the printed object when printing at high velocity. The standard slicing resulted in print times that would far exceed the time we had. Optimization was key and after making several tweaks, like variable print speeds throughout the cups to optimize surface quality while maintaining minimal vibration, printing each of 5 close to one another and dynamic acceleration and deceleration at the start and end of a cup we brought print times down to acceptable levels. All this was done directly in the original Gcode of a single cup as those particular variables could not be produced with the slicing software." Yao explained.
Another interesting addition to the code was a small warning signal just before a cup was about to finish. This would give Yao the option to check upon progress before the next cup would start to print leaving time to do other tasks while the printers were busy.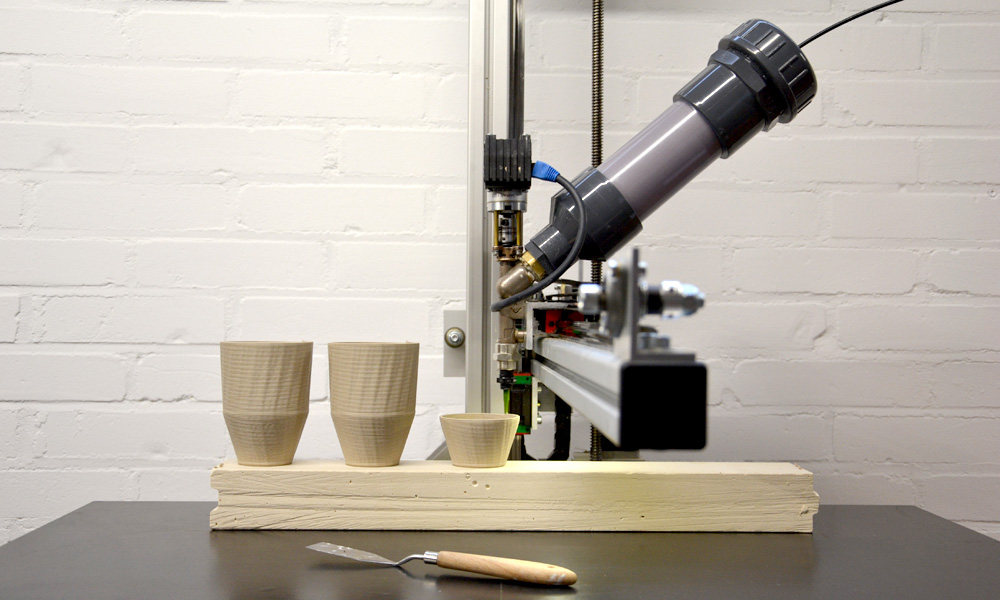 With an average layer height of 1mm, a wall thickness stable at 3mm and printing at speeds between 10 and 40mm per second a full row of five would print in just over an hour. The plaster slabs were cut to fit this purpose. As the Print bed of a LUTUM printer is stationary you can easily place multiple objects side by side in one print leaving minimal down time in the overal process. When the plaster slab is full, Swapping the slab and the cartridge take less than a minute. To increase production volume they used 4 printers simultaneously.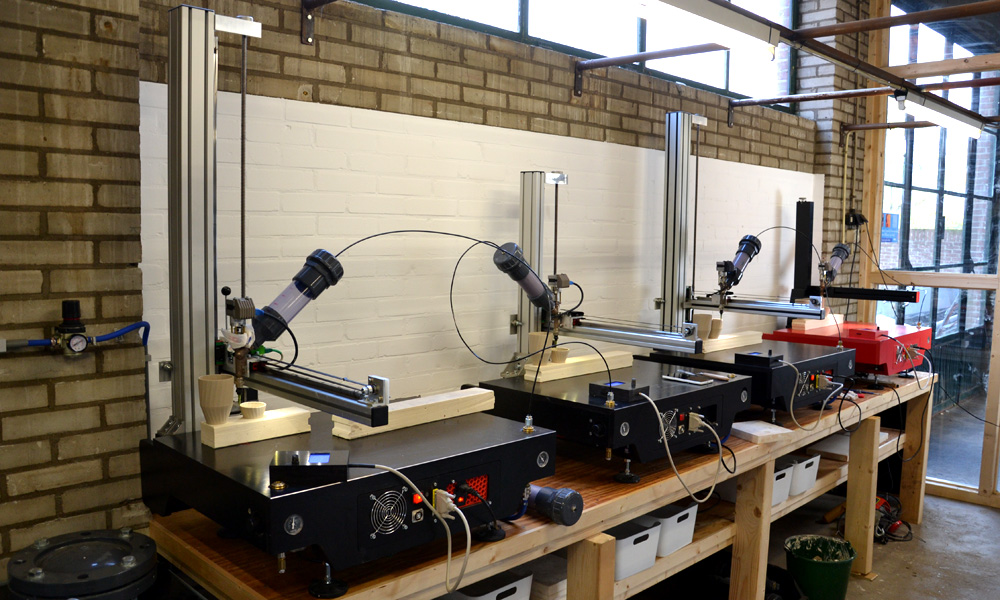 November was a cold month and VormVrij's new studio was cooler than anticipated. As a result they had to speed up the drying process keeping their kilns permanently warm. Post processing like sponging and glazing took about the same level of overtime. Night work was no exception that November.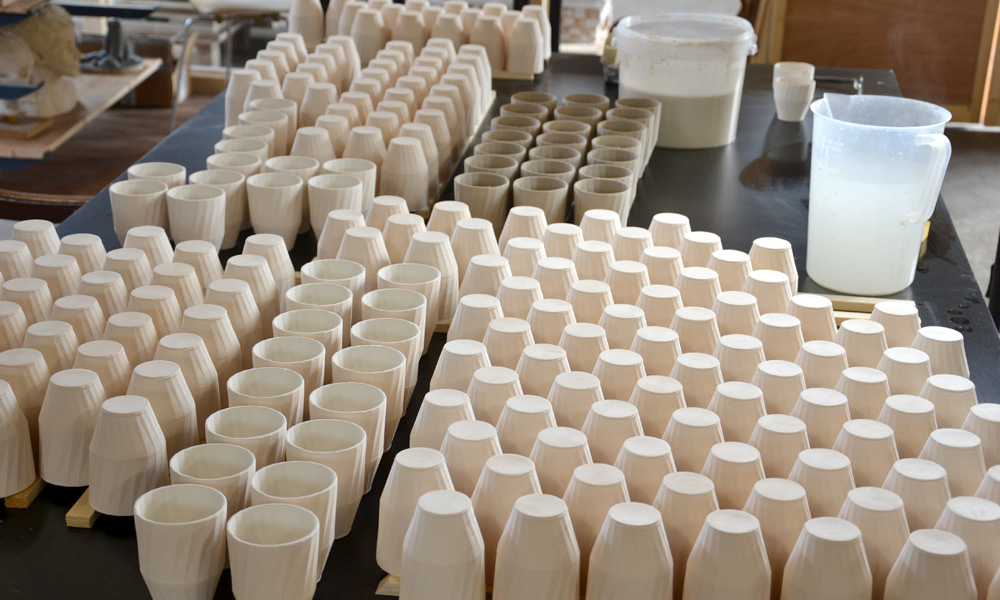 "It's always exciting to open a glaze fire and with much relief and fulfilment the first batch came out perfectly."  After wrapping and packing the cups they were collected by Dries and Claire from Unfold. They would repackage and distribute the prints to their future owners, but that is a different story.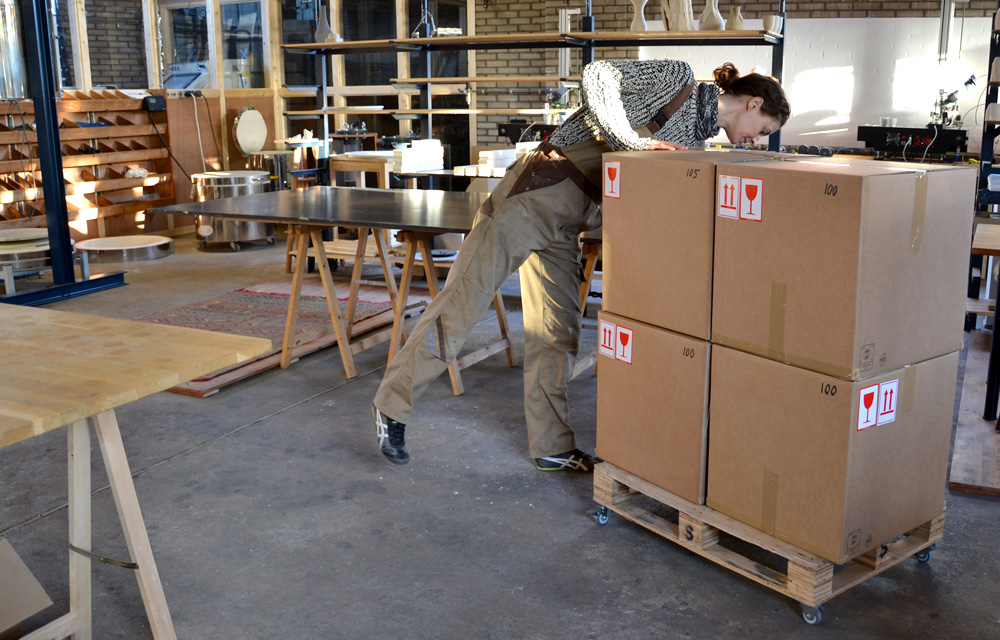 The next 800 cups were just as much work but Yao and Marlieke now knew it could be done. It turned out the commission was less of a challenge for the printers as they performed exactly according to expectations. A few hickups like a worn seal and some unwelcome particles in the clay were to be expected.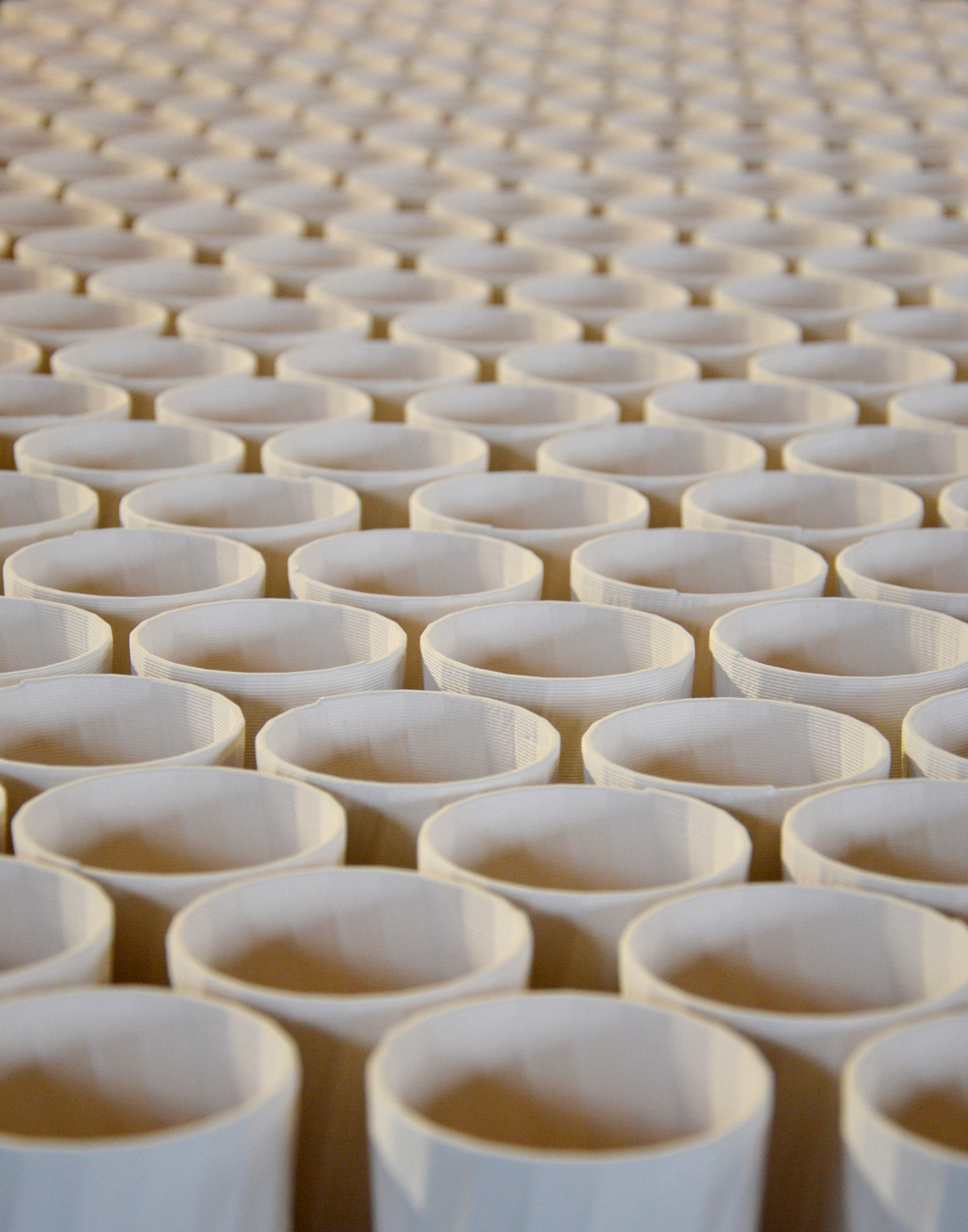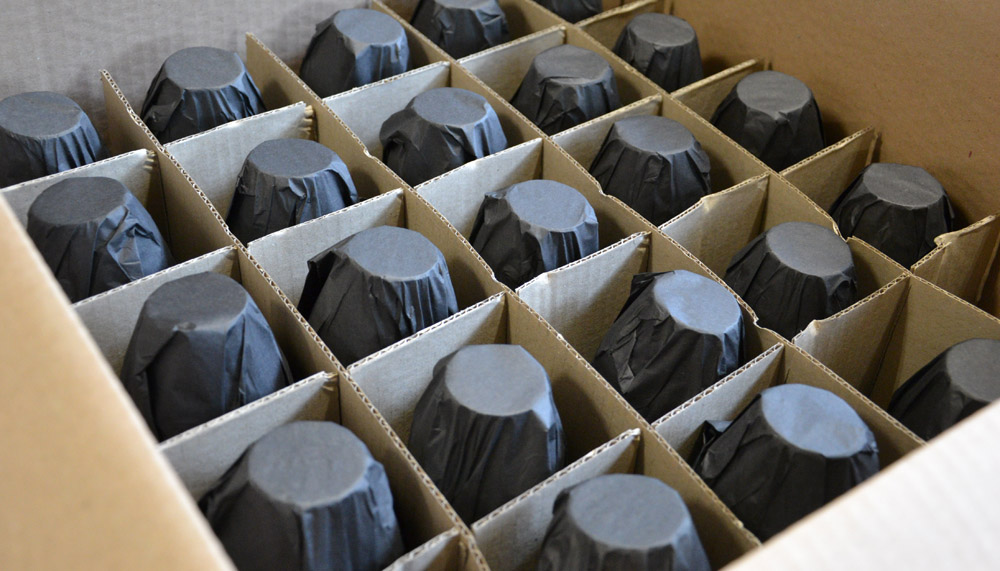 In the end the drying time, postprocessing handwork, glazing plus firing and coolling times were the biggest factors to take into account. Rigid planning was necessary to make sure one step wouldn't delay the next. And this is the result: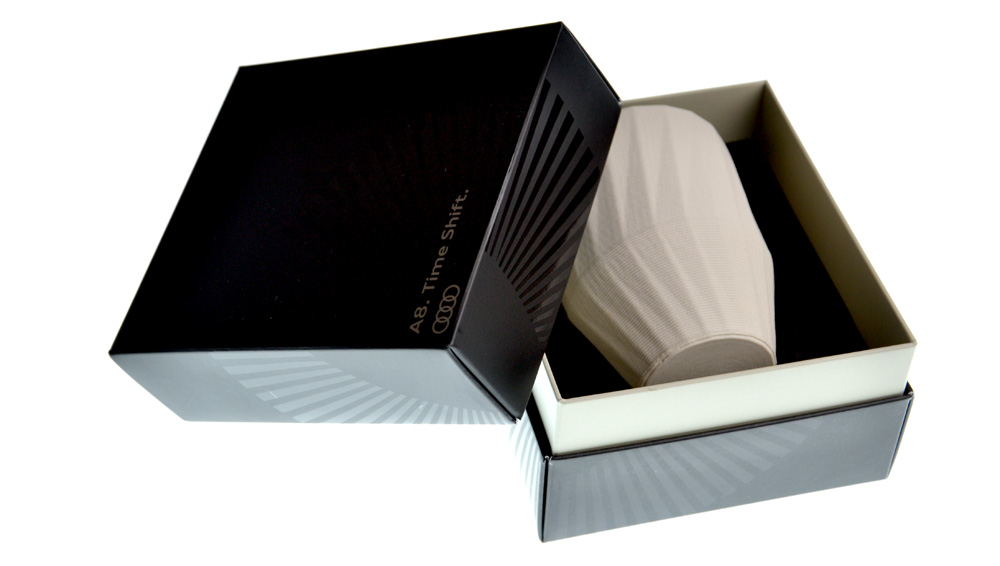 Pictures by VormVrij 3D