theLUTUM® Eco Clay Extruder.
This is no april fools, it's a new clay extruder from VormVrij 3D.
Why a new extruder.
Over the years we have had many Clay Extruder changes, upgrades and redesigns. Since 2018 we have used the v9 extruder, the stainless steel cnced type.
This extruder is still the best extruder we have to offer that fits the LUTUM 4.x clay printers. It is durable, modular, easy to clean and has excellent print quality.
In 2019 we were able to exchange the steel-bronze auger for a higher quality stainless steel version. This improved the Extruder even more as the new Auger was produced with higher tolerances.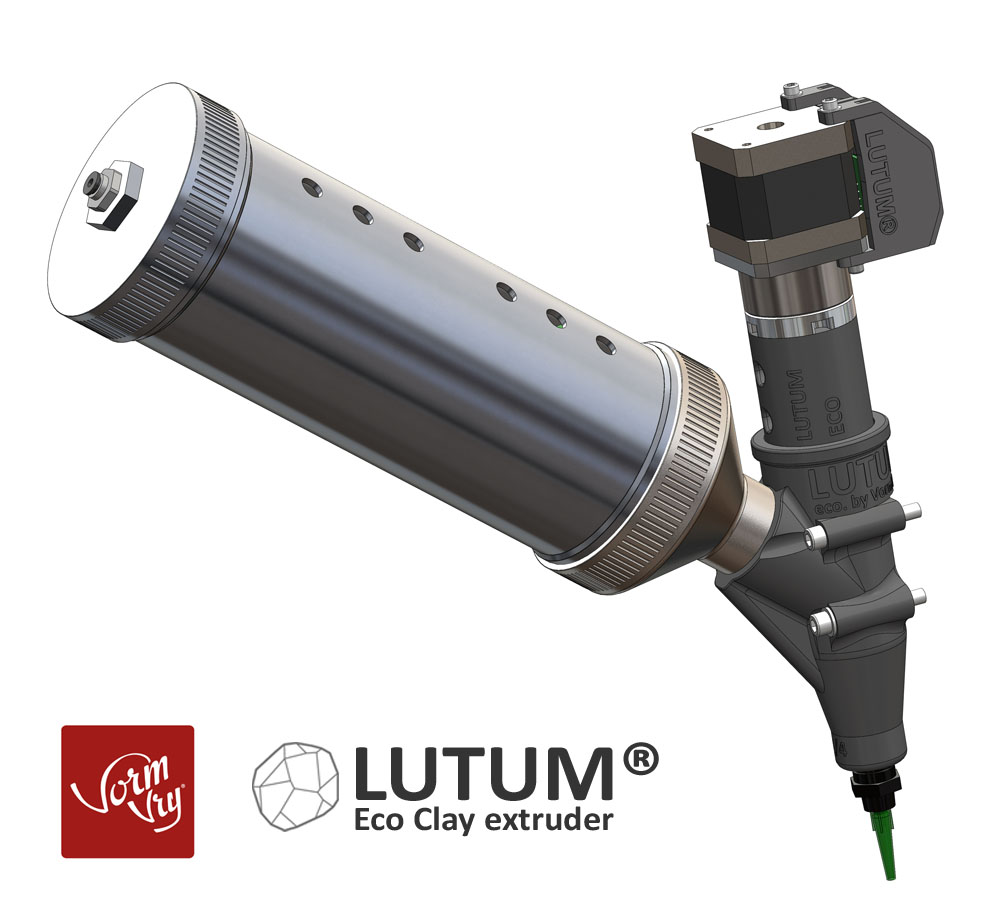 The eco extruder
introduction.
We have been working hard to deliver a more affordable extruder for our LUTUM® printer. The eco extruder is a workable solution that provides expected high quality print results for the smaller DIY projects or the experimental clay print setup. This extruder is not intended for high volume or professional scale printing.
While we have been testing this extruder for a few months and so far did not experience any deterioration in print quality we can't predict how it will wear over the time of several years of intensive use.
As explained it is a budget extruder and we present it in several packages.
The standard package has de eco extruder bundled with the metal cartridge and 1 extra empty PET sleeve.
You can opt to purchase the eco extruder only.
A DIY set for self assembly, you can include a metal cartridge if needed.
A DIY kit where you collect the plastic parts and the Auger screw from ShapeWays.
The remaining parts can be purchased elsewhere or from us.
Bundle with the eco extruder.
This bundle has you set and go within the hour.
You will receive the wiring instructions to connect a standard UTP/RJ45 to the extruder, the other (wire) side of the cable needs to connect to your printer electronics to send the stepper signal to the nema17 drive motor.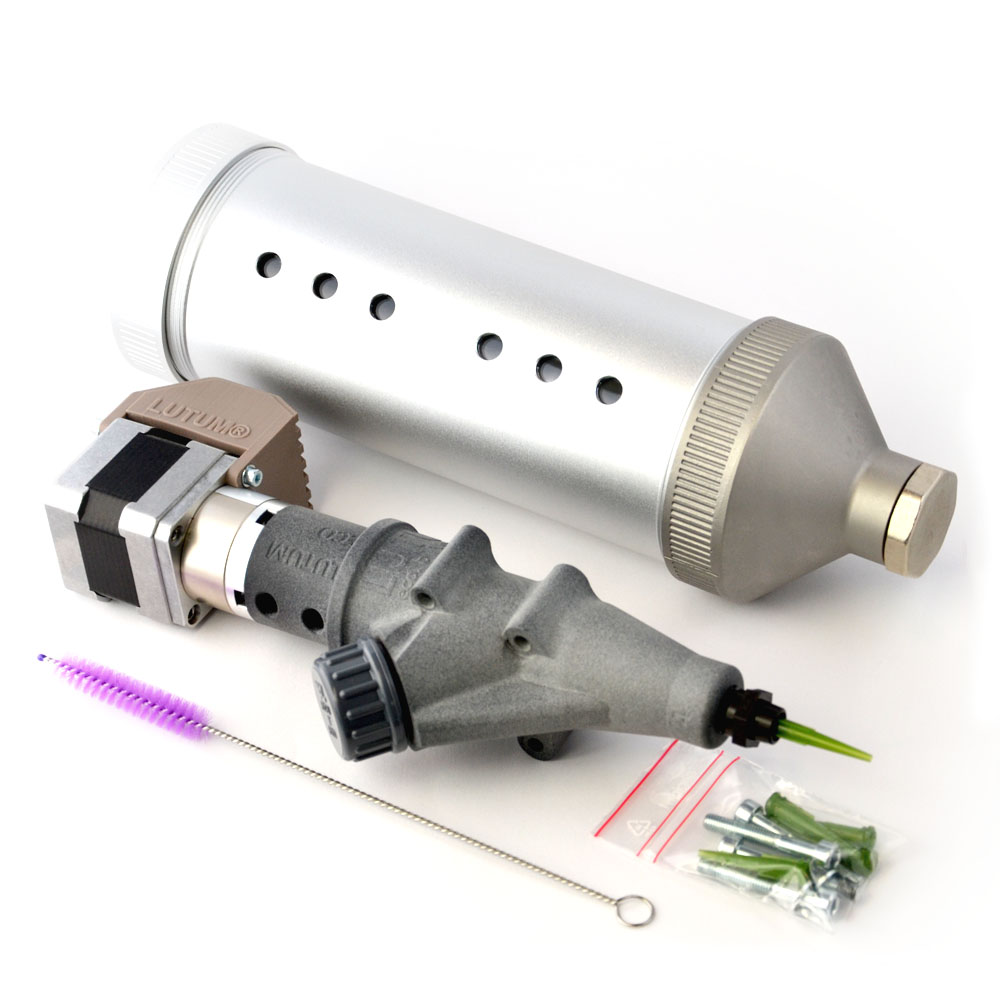 Eco extruder only.
You can also choose to get the extruder without the bundled clay cartridge.
If you own an older version LUTUM® v3.x or v4.x and you want a budget replacement this is your pick.
Both sets are also available as a full DIY kit.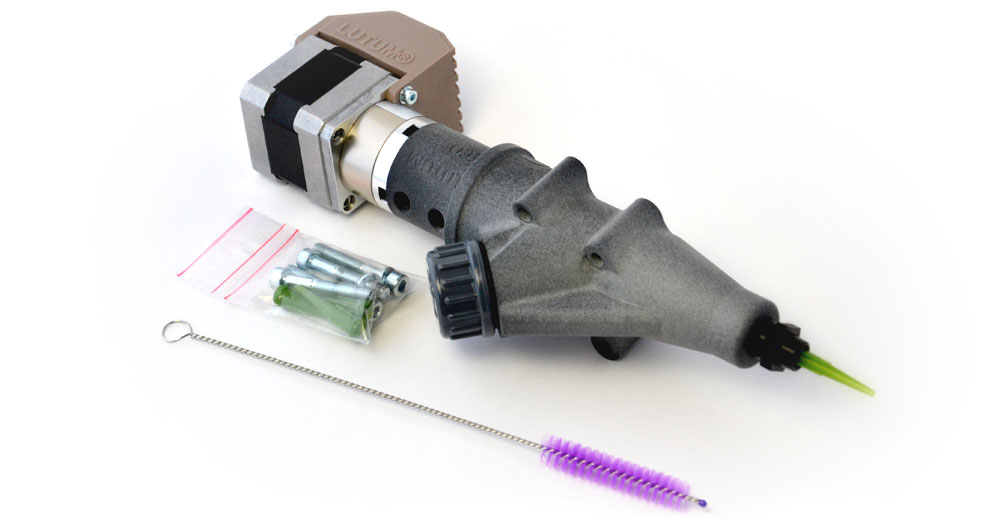 The DIY kit from Shapeways does not contain the Stainless steel auger screw. A steel-bronze aloy variant can be purchased from Shapeways instead.
However, all parts from Shapeways wil need some degree of post processing before assembly.
The Auger screw surface needs sanding for proper function.
The Plastic parts need to be bored to make essential inner surface smooth enough for proper printing.
Detailed Instructions are delivered with the parts.

Go to our RECOURCES page in the " Support & Answers › mechanical › Budget Eco Extruder " section.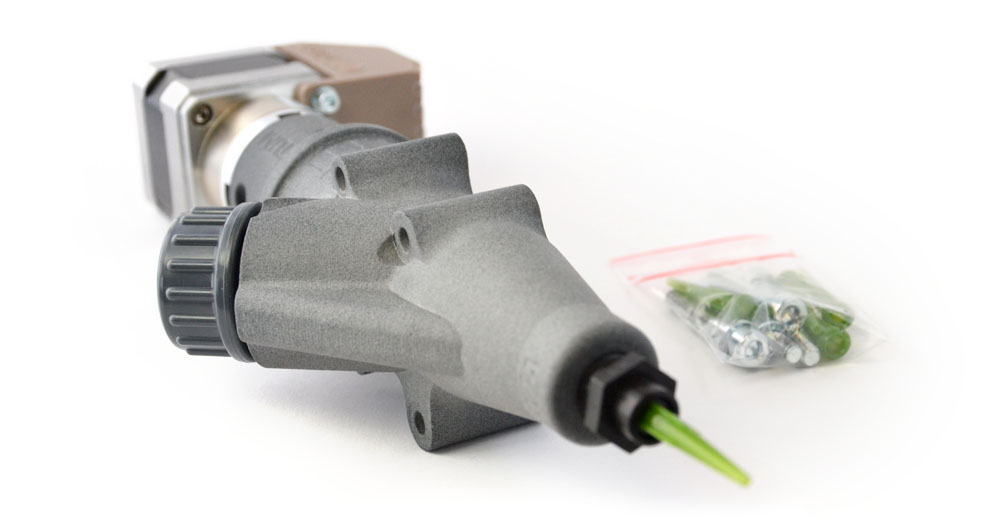 The extruder needs four M5 threaded holes to mount.
standard G1/4″ thread on the barrel, standard G3/4″ thread on the clay inlet side, the auger is SLS printed from stainless steel.
There are two seals inside the extruder.
a small O-ring holding seal and a 10bar pressure seal around the extruder.
Plastic parts are made from Grey Nylon and produced by a HP printer.
The package contains:
extruder
1/4″ male PP black Leur nozzle adapter
five 1.4mm standard green nozzle tips
10mm barrel cleaning brush
4x M5x35 hex bolts for mounting to your equipment
What can you print with this extruder?

Any standard Stoneware clay can be printed as long as it has the proper viscosity. When you can hand sculpt it with ease, it's normally okay. This definition holds for earthenware clay and clay with grogg content up to 25% 0.2mm particle size. Any other pastes with similar reology can be printed in theory.
Pure porcelain is not possible without specific additives, premixed porcelain developed for 3dprinting with our LUTUM® can be purchased from Imerys France.
Important to know.
The Eco extruder bundle and kit are shipped world wide.
The DIY kit requires basic technical skills, soldering equipment and standard workshop tools.
You also need an electrical drill and drill bits size 3mm,10mm, 10,5mm and 11mm.